If you're a serious gamer you know that it's not just about having the best PC for gaming, it's also about having the best keyboard, mouse, screen and last but not least; the all important recording system. Other want to know how you're managing to get those crazy scores and how you've managed to get so much graphical power from your system while recording. Record yourself and the game footage on gear that won't sap your systems resources.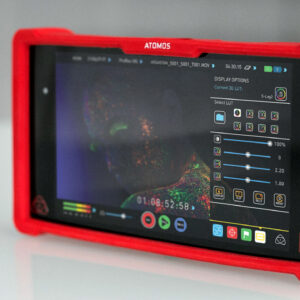 Atomos Ninja Assassin
Atomos Ninja Assassin.
Screen:
Type 7.1″ (18 cm) IPS capacitive touchscreen
Resolution 1920 x 1200
325 ppi
Brightness 400 nit
Frequency 48 to 60 Hz
Viewing Angle 179°
Color Space Rec 709 (HDTV)
LUT Support User-defined 3D LUTs available
Supported Resolutions:
UHD 4K (3840 x 2160): 2160p 24/25/30
HD (High Frame Rate): 1080p120, 1080p60/50, 720p120
HD: 1080i60, 1080i59.94, 1080i50, 1080p30, 1080p25, 1080p24, 1080p23.98, 1080pSF23.98, 1080pSF24, 1080pSF25, 1080pSF30, 720p60, 720p59.94, 720p50
Price £495
NOTE: ALL ITEMS ARE FOR FREE LOCAL DELIVERY OR COLLECTION. ITEMS CAN BE PAID FOR CASH, CARD OR BANK TRANSFER.
WE DO NOT DELIVERY VIA POSTAL SERVICES.
not rated
£

495.00