Professional Video Recorders can be used for recording directly from the HDMI out of a mirrorless DSLR camera, Gaming PC graphics card or anything that has an HDMI output.
For professional film makers, YouTube, Twitchers etc these systems are invaluable, Not only do they use ZERO percent of your systems resources they also output/record the video in an edit friendly Pro-Res format, unlike the cameras heavily compressed format which makes it much easier to edit because, again, it uses less system resources meaning more power left to edit and add effects.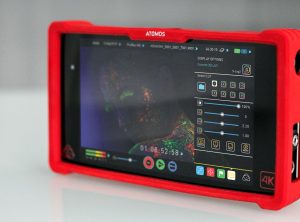 Atomos Ninja Assassin
Atomos Ninja Assassin.
Screen:
Type 7.1″ (18 cm) IPS capacitive touchscreen
Resolution 1920 x 1200
325 PPI
Brightness 400 nit
Frequency 48 to 60 Hz
Viewing Angle 179°
Color Space Rec 709 (HDTV)
LUT Support User-defined 3D LUTs available
Supported Resolutions:
UHD 4K (3840 x 2160): 2160p 24/25/30
HD (High Frame Rate): 1080p120, 1080p60/50, 720p120
HD: 1080i60, 1080i59.94, 1080i50, 1080p30, 1080p25, 1080p24, 1080p23.98, 1080pSF23.98, 1080pSF24, 1080pSF25, 1080pSF30, 720p60, 720p59.94, 720p50
£

300.00