Whether your streaming Live Gaming to twitch and YouTube or creating a Vlog for general distribution, you'll need the right bits of kit; from Atomos Pro-res recorders and Blackmagic Video Assist systems to capture cards.
There are huge benefits to using external recorders and not least of these is the ZERO impact on whatever system you are using to record from, be that a computer, DSLR, or video recorder. The only limit in record time on external devices is hard drive size.
Sale!
Atomos Ninja 2 Video Recorder
Atomos Ninja 2 Video Recorder
800 x 480 Touchscreen Operating System
HDMI Input and Output
SDI Connection by Optional Converter
10-bit 4:2:2 Video Capture Full 1080p
Records in Apple ProRes
Stores to Efficient HDD or SSD Media
Fanless / Silent Operation
Exposure / Focus / Calibration Tools
not rated
£

285.00
Add to basket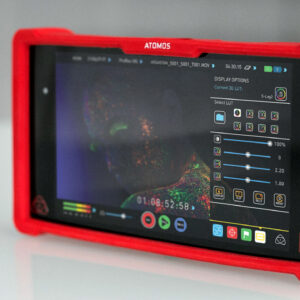 Atomos Ninja Assassin
Atomos Ninja Assassin.
Screen:
Type 7.1″ (18 cm) IPS capacitive touchscreen
Resolution 1920 x 1200
325 ppi
Brightness 400 nit
Frequency 48 to 60 Hz
Viewing Angle 179°
Color Space Rec 709 (HDTV)
LUT Support User-defined 3D LUTs available
Supported Resolutions:
UHD 4K (3840 x 2160): 2160p 24/25/30
HD (High Frame Rate): 1080p120, 1080p60/50, 720p120
HD: 1080i60, 1080i59.94, 1080i50, 1080p30, 1080p25, 1080p24, 1080p23.98, 1080pSF23.98, 1080pSF24, 1080pSF25, 1080pSF30, 720p60, 720p59.94, 720p50
not rated
£

585.00
Add to basket
Atomos Ninja Blade PRO-Res Recoder
Atomos Ninja Blade PRO-Res Recoder
Atomos Ninja Blade comes with an inch-perfect simple design that makes it an easy-to-use model extremely reliable to its functionality. It comes with a silky smooth, 5.1″ Super-Atom IPS, a capacitive touch screen that responds in lightning speeds to gestures.
This Ninja Blade is a smart option for production recording, monitoring and playing back deck and comes combined with a wide array of devices that gives it that extra touch as a tool. These include capture cards, playback deck, external monitor and a cut edit suite for editing of recordings. The Atomos Ninja Blade has been developed for use in different conditions with its tough and robust design and lightweight, making it easy for use in tight conditions.
not rated
£

335.00
Add to basket